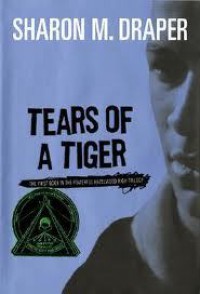 5/5 stars
That's what I remember--and that's what I'll never be able to forget.

As a freshman in high school I was really depressed. I found this book in my English teacher's room and asked to borrow it, thinking it sounded interesting. What I got was more than that. I got an experience I took with me forever. Sharon M Draper's Hazelwood High trilogy has stuck with me since the day I started it and today I decided to revisit the first book, Tears of a Tiger.

I loved everything about this book, just as I did when I read it at the age of fourteen. I understood and connected with Andy more than I could with most characters I've read about in the past. I loved the formatting of it. From conversations to newspaper clippings, it was always changing forcing me to keep paying attention. The chapters are short, and every word, every detail aims to serve a purpose. A few amazed me during the reread. First, it's amazing how much she made me care for the characters without much insight into their minds. We only get to see what they would want people to see for the most part. Second, how much I cried even knowing what was going to happen. Finally, how well she set things up for the second book.

I recommend this book to everyone. It's powerful, emotional, and deals with a subject matter people tend to avoid in my experience. Thank you Sharon M Draper for writing a book that has meant so much to me over the years.